One of my favorite movies is Blood Diamond from 2006, and I'm currently reading the book behind that movie. I've realised I've read very little books about Africa, it's history and conflicts, which I want to fix. So, here are five books about it that I want to read.
I've actually found quite a lot of books like this I want to read, so there will be a part two sometime in the near future.
The Fight Like Soldiers, They Die Like Children by Roméo Dallaire
This is a book about child soldiers, this book offers enlightened and daring approaches to the problem of child soldiers and insightful solutions to eradicate it. The author was first exposed to this horrifying reality in 1994 as the leader of a UN peace keeping force, and has since made it his mission to end the use of child soldiers.
Conversations with Myself by Nelson Mandela
A very important historical figure, Nelson Mandela was an anti-apartheid activist who spent 27 years in prison and ended up as the president of South Africa. That's about all I know about him, so I thought it could be interesting to read more about him.
We Wish To Inform You That Tomorrow We Will Be Killed With Our Families by Philip Gourevitch
In 1995, Philip Gourevitch went to Rwanda to investigate one of the most horrifying genocides since Hitler's war against the Jews. A genocide in which close to a million people were murdered in the span of a hundred days, while the rest of the world did nothing to stop it.
A Human Being Died That Night by Pumla Gobodo-Madikizlea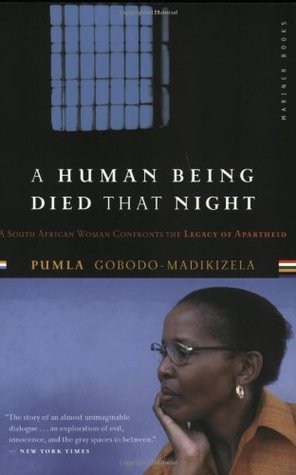 This one sounds really interesting. The full title is actually A Human Being Died That Night: A South African Woman Confronts the Legacy of Apartheid, and it's the story of Pumla, a psychologist who grew up in a black South African township, reflects on her conversations with Eugene de Kock, the commanding officer of death squads under apartheid. She has these conversations with him by visiting him in a maxium security prison.
Tears of the Desert by Halima Bashir
This is one woman's true story of surviving the horrors of Darfur, where one of the worst genocides during the 21st century occurred in the early 2000s.
Heavy topics, I know, but also important. I never learned about any of this in school, so I think it calls for a bit of self-education.