As I'm always looking for new translated fiction to discover, I came across the longlist for this years Man Booker International Prize and found some new books I want to read. Here are five of them.
You can find the complete longlist
here
.
Man Tiger by Eka Kurniawan
Originally published in Indonesian, this is set in a small town on the coast of Indonesia and follow two tormented families, and a young man that conceals a supernatural tiger inside himself.
Mend the Living by Maylis de Kerangal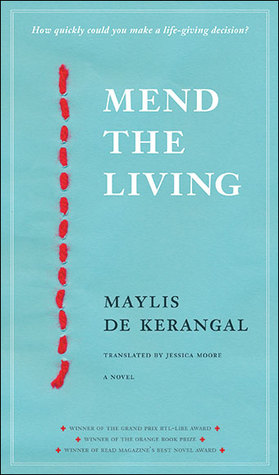 Originally written in French, this is the story of a heart transplant and centers around the boy whose heart is given, and his family.
A General Theory of Oblivion by José Eduardo Agualusa
Originally from Angola and translated from Portugese, this is about an anxious woman who locks herself up in her apartment for 30 years and writes her story on the walls, while her only outside influences are the people she sees from her window, the voices she hears next door and little snippets on the radio.
The Four Books by Yan Lianke
Originally written in Chinese, this tells the story of several intellectuals who are confined to a labour camp for "re-education", but are left to themselves when the Great Famine strikes.
A Cup of Rage by Raduan Nassar
Originally published in Brazil and translated from Poroguese, this is the story of two people: a young journalist and an older man who spend the night together at a Brazilian farm and then proceed to destroy each other.
Do you have any translated books on your TBR?