October is coming around at last, and it's time once again to take a look at some exciting new releases coming out this month.
There's A LOT of great books to choose from this month and I couldn't quite break it down to five, so this months list is a bit longer than usual.
Before the Devil Breaks You by Libba Bray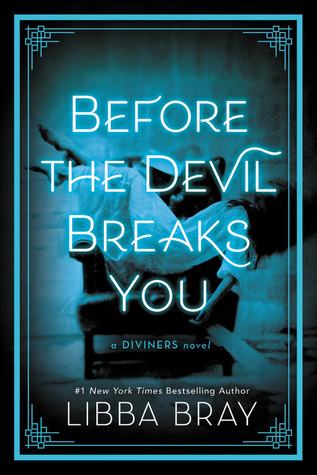 3rd
If you're a long timer reader of this blog, you'll know that I have absolutely adored the first two books in the Diviners series, which is a paranormal, historical fiction series set in New York in the 1920's. This is the third instalment, and I pre-ordered it weeks ago and I cannot wait for this to arrive in the mail!
The Diary of a Bookseller by Shaun Bythell
5th
This is a nonfiction autobiography about the owner of Scotland's second biggest secondhand bookstore and it's the wry and funny tale of the joys and struggles of being in the book trade.
The Lost Words by Robert MacFarlane and Jackie Morris
5th
This is a nonfiction nature that celebrates the magic and wonder of the natural world, exploring words disappearing from children's lives and bringing them back to life through poetry and art. I saw a sneak peek of this on Twitter a few months back and I immediately knew I needed it. It looks absolutely wonderful.
The Silent Companions by Laura Purcell
5th
First of all, who can resist this cover? It's fantastic! This book is a historical fiction, gothic tale and it's about a newly married but also newly widowed woman who moves to her dead husband's estate, only to find the servants resentful and the villagers hostile, and at the same time, something is odd about this house...
Suger Money by Jane Harris
5th
This is literary historical fiction, it's set in 1765 and it's about two brothers who are on a mission from their master; to go back to their homeland and bring back 42 slaves. While one brother looks forward to the adventure, the other holds no illusions of the dangers they will face. I think this sounds amazing, and I've seen some early reviews that make it sound even better.
We Were Eight Years in Power: An American Tragedy by Ta-Nehisi Coates
3rd
I read and loved Between the World and Me last year, and I haven't really researched what this is about (though I have an idea); I'll read anything Coates comes out with. He has a unique and beautiful voice and I want to hear what he has to say.
Sleep No More by P. D. James
3rd
This book contains six murderous tales from the Queen of Crime, P. D. James. I read a collection of her Christmas stories last year and they were excellent, so I've got great hopes for this one!
The Faber Book of Christmas
5th
Too soon?
(Not only might it be too soon, it's also a bit of a cheat, as this book is not strictly a new release; it's an old release in a new suit. And how amazing is that suit? I mean, look at it...)
So many amazing books, so little time. Sigh.