After reading my first non-fiction book, I have had my horizon widened. I want to read more! I've done one of these before, which you can check out
here
, but here are another five non-fiction books I want to read.
The Opposite of Loneliness by Marina Keegan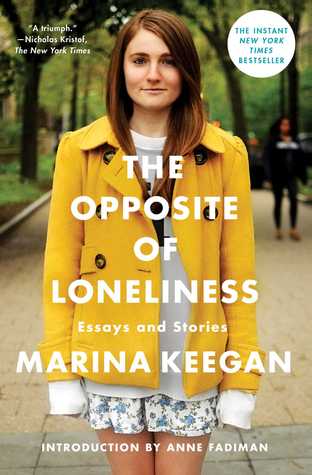 I book I've been told is really good, this is an essay collection from Marina Keegan, a star on the rise who died tragically in a car accident only five days after graduating from Yale.
Men Explain Things To Me by Rebecca Solnit
Not a hundred percent sure what this is about, but it's an essay collection about men and women, and how we relate to each other. I think this has a fair bit of feminism in it, so I'm pretty intrigued.
Feminist Theory: From Margin to Center by Bell Hooks
First published in 1984, this established Bell Hooks as a influential feminist voice. I feel like this is a really important read.
This Book Is Gay by James Dawson
This is a book about what it's like to be a LGBT, with testimonials from different people. Also an important read.
Reading in the Brain: The New Science of How We Read by Stanislas Dehaene
The title really says it all, this is a science book about what happens in the brain when we read.
If you've read any of these, let me know what you thought! And if you have any non-fiction recommendations, shoot them my way.